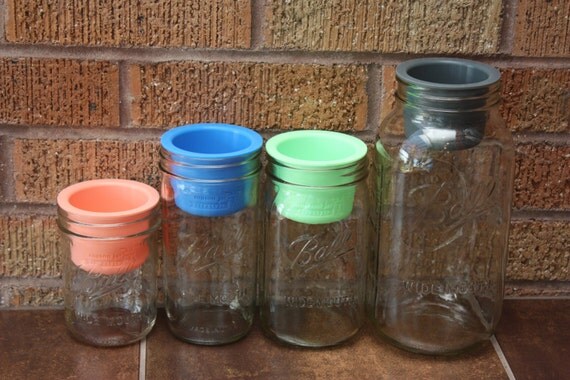 source
These silicone cups fit inside a wide-mouth jar. The purpose is to carry salad dressing in the cup on top of the salad in the wide mouth jar. I thought this was a great idea. They
only
fit a wide-mouth jar. The pint jar is probably the size I would use.
Scroll down a bit at the source to see this picture.
While I love the idea, I can get a free item that will work just as well.
A few months ago, I was looking at this. I went into the kitchen and fished a used cup that held applesauce a few hours before. It fit perfectly! The little rim on the top of the applesauce cup fits perfectly on the jar rim. Then, the rubber in the lid fits right onto the lip on the applesauce cup. While I did not check to see if it was leak proof, I am quite sure it is close enough for taking for lunch.
Let me say that I got applesauce in cups with a sale and coupon cheaper per ounce than I could have bought a jar or glass container of applesauce.
Somewhere there is a picture of a jar with salad in it and the silicone cup in the top.
Why would I pay $9.99 + shipping for something like this when I can use a free hack for the same thing?
Your turn
Have you seen these silicone cups? Do you have one? Do you ever carry a salad to work? In what?