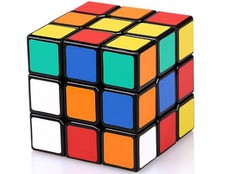 Did you ever have a Rubik's Cube? My children did and tried very hard to solve it. I had so many things to do, I never sat still with it long enough to give it a good shot. It looked impossible to me.
Today, I found directions, a video, to show how to do it. I am still not sure I can do it with explicit directions.
Did you ever solve the Rubik's Cube? Did you ever try to solve it? It gives me a headache just watching the video. I am going to acquire a new skill. I received my first 15 square puzzle when I was a small child and mastered that. This will probably be much harder!
Here is the
VIDEO.
I found the video
HERE.
Who would have guessed there would be a Rubik's Cube blog? Not I. Look
HERE
for the history of the Rubik's Cube.
What's your experience with Rubik's Cube? Thoughts?